You may be wondering what happened that is has been almost two weeks since my last post. Well, I was on my annual retreat! This is a time of solitude given to each sister to refresh and renew her as she sits with God alone in the desert. A time for God to speak and us to listen. A time to unwind from duties and tasks and to simple be still before the Beloved. I hope to share a bit more on what it means to go on retreat here at the monastery as it can be hard to grasp how a cloistered nun could need such a retreat. I know, myself, I used to think that the very life is a retreat so why would one ever need a "break"?
But I shall leave you in suspense as I want to take this chance to share with you a poem I recently came across in honor of tomorrow's feast: St. Mary Magdalene. This beloved saint is so dear to my heart as her radical love never let her stop short. We of course don't know for sure if she was the one to have 7 demons cast out of her, the prostitute at Jesus's feet... but we do know she had great love which made her break a jar of oil over our Lord to anoint Him, she clung to Him after the resurrection, she stood with Him at the Cross, she wept with Him over Lazarus...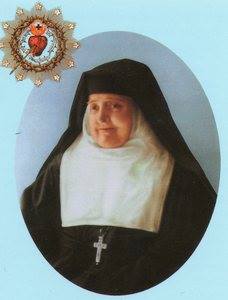 I want to touch on her standing at the foot of the Cross. She stands there as a witness, as a woman moved by love, as a disciple, as a servant, but most of all as a friend. She wanted to be with Jesus no matter what the cost and this desire, this fervent love was undeterred by the mocking guards, the merciless crowds, or the angry pharisees. One of our holy sisters in France, Sister Marie of the Sacred Heart Bernaud, wanted to enliven hearts to stand with Mary Magdalene, John, and the Blessed Mother at the foot of the Cross and saw these three as forming a sort of honor guard for Jesus. A guard for His Heart to shield, protect, comfort His Heart particularly at this moment of great pain and rejection. She invited all people (laity, religious, priests) to join this holy trio to stand guard and offer Jesus our love at that hour of suffering and pain.
This began what is now called the Guard of Honor. Each member of this Association registers for one hour during which they will place themselves spiritually at the foot of the Cross to simply be with Jesus and let Him know of their love. It it not needed to be on one's knees or in a church, but simply to be spiritually with Jesus, loving Him through whatever you are called to do externally at that moment.
So, about 2 weeks ago a number of books were donated to us and they were laid on the community room table and one with a green cover and quite old looking caught my attention:
Beside the Western Sea: Poems of Marie
. Thinking it to be an Irish book of Marian poems, I picked it up and opened to the poem below. Perhaps the Lord wanted to share this with all of you as well:
"The Guard of Honor to the Sacred Heart"
They come in still succession to keep the hour of guard,
Around his throne they linger in silent watch and ward;
They bear his badge of service as At His Feet they bow,
To pledge their font submission to breathe their solemn vow;
Well in his audience-chamber he keepeth Kingly State,
His chosen guard of honor and ranks unbroken wait.
Swift fly the summer hours, soft dies the rosy day,
And still his kneeling subjects there eager homage pay.
Ah! why the waiting Legion? And who's the Royal Throne,
So hid in crowded cities to countless throngs unknown?
O worldling-throng insensate! O fettered the slaves of Pride!
They come to "watch one hour" the Victim-God beside.
That hidden throne is canopied by angels' tendered wings,
That still secluded Temple conceals the King of Kings;
In Heaven's fondest worship earth takes her eager part,
When Mortals bow before him to guard his Sacred Heart.
With spotless lilies blooming before their type Divine,
With roses pouring incense upon His Holy Shrine,
With tapers sending steadfastly there upward-pointing flame,
With bells that hail His coming in silv'ry soft acclaim,-
With all that nature offereth, with all the Earth can bring,
Each heart its worship blendeth, low bowed before its King.
Love's Bloom and blessed Aroma, love's shining altarflame,
Love's soft and silv'ry utterance that chimes His sacred name,
the sweet soul-flowers that charm him with fresh, unfading Grace,
before his sacred portals His guarding Legions place.
They prefer fond atonement for hearts unkind, untrue,
they sigh, "Forgive them, Father, who know not what they do;"
They bring the glad thank-offering for Love's redeeming birth,
They hail the boon celestial of a blessed "Peace on Earth."
They sound the ceaseless echo of Heaven's eternal psalm
Of "Praise and benediction, and glory to the Lamb!"
O Heaven on Earth reflected by Heav'nly watch and Ward!
O servitude seraphic! A grand and glorious guard!
Be faithful blessed Legions and may the band ye bear
Of spirit-service loyal be still the symbol fair.
Within your hearts imprinted by fond, celestial art,
Keep e'er, in sweet similitude, your Sov'reigns Sacred Heart:
The thorny wreath, the crowning cross, the flames that soar above,
The glowing hue, the open wound, the life-blood of His love.
The mystic signs thus bearing upon your pilgrim-path,
Ye shall escape the Angel's sword of stern relentless wrath;
And in Love's fadeless Kingdom His guard shall claim their part,